SEO Trash
Caveat: Understanding Search Engine Optimisation is vital if you want to succeed online. An un-optimised website is a wasted opportunity. Pursuing higher rankings is a logical goal for most organisations with websites.
However, some SEO practices are not essential, not very effective and create a web of trash. Article marketing is a good example of a deeply inauthentic, junky marketing process that clutters the web with endlessly duplicated content.
Link-exchange sites and directories are also examples of eco-systems that exist purely for SEO purposes.
Confession
I tried article marketing. It seemed like a good idea – a way to share content and gain links. In reality, article repositories are dumps that only seem to be used by spam-merchants. (Feel free to tell me if you feel differently…)
Google's View
I asked Google's Matt Cutts what he thought about article marketing and web directories. While not damning, his views suggest that these SEO tactics aren't the best way to approach SEO.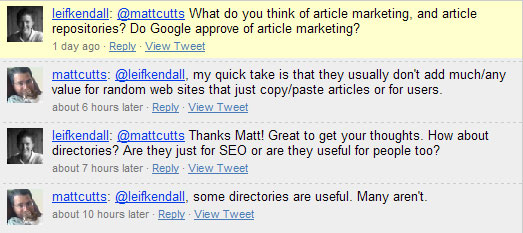 The Right Approach to Article Marketing
Article marketing is a very useful web marketing technique – providing you don't use article repositories. With article repositories, your article will probably be reproduced on many low-grade websites with low (or nil) PageRank. The benefit in SEO terms is negligible – especially if Google decides to penalise you for duplicating content.
It's also worth pointing out that because many spam-blogs will reprint your articles, you'll have a bunch of links to your site from so-called bad neighbourhoods.
If you want to use article marketing to gain links to your website, and get your name in front of a new audience, then contribute fresh articles to quality websites. While this means more work, it will give you a genuine, high-quality audience and links from reputable sites that you can hand-pick.
Bad Content: for the Sake of Content
SEO wizards realised that because Google loves content, and people love content, they should bulk up their websites with content.
The result? SEO companies pay students £10 (or less) to write generic articles about their clients' businesses.
The result? Sub-prime content – not interesting, not relevant, not readable. This kind of content is aimed at search engines and link-building. It's for robots, not humans.
Quality Content
The alternative to junk content written by anonymous students is authentic content created by an organisation's own people. This is the difference between meaningful, interesting content and cheap, hollow filler.
Good SEO?
Good SEO is about optimising content (and ensuring a website is optimised for search engines) not about creating content purely for optimisation.
SEO can often suggest useful additional content – which is fine. But junk content created purely for search engines creates a web of trash. Entire corners of the web are now stuffed with rubbish, creating a kind of SEO echo-chamber.
Choosing SEO Strategies
When planning your SEO, it's important to realise that many popular tactics aren't as useful as they seem. While many people invest in article marketing and web directories, they don't always provide a good return.
What do you think?
I realise these are contentious issues, so I'd love to know what you think. Do article repositories, link exchanges and directories serve any real purpose? (A purpose beyond supporting the SEO industry.)