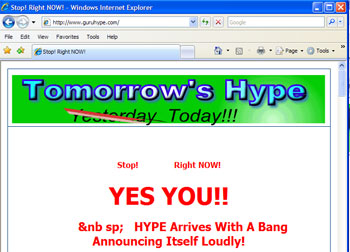 Part 3: Thinking About Your Website
Websites are versatile, powerful extensions of an organisation. Your website can do many things, but not without your help. You may have expected your website to take care of itself, to run quietly in the background, pulling in customers and generating new business.
You might not have a Website Manager, or Webmaster, or Weblord, or someone steering your website through the crowded digital seas. But to find success on the web, somebody (probably you) will need to start thinking about your website. And that somebody will need to add and remove content, make changes, update information, spread the news and find an audience.
Left to their own devices, websites do absolutely nothing. Without human involvement, websites are lazy, good-for-nothing cash-sponges.
Working Out Where You're At
Before you think too much about where you're going wrong, or what you should change, look at your website's traffic statistics. You should be able to see things like:
* Daily visitor numbers
* Popular content (what people are looking at)
* Traffic sources (where people came from)
* Length of stay
* Bounce rate (percentage of people who leave your site immediately after arriving, without viewing a second page)
If you don't have access to this information, ask your web developer to provide it.
If you have this information, spend some time looking at it. Analytics data can highlight many things. Such as:
Misleading inbound links
If your website appears highly in searches for cheese pizzas, but you only sell cheese cloth, then people may come to your site looking for something you don't offer. As soon as they realise their mistake they will leave. If lots of people do this, your bounce rate will be high.
A high bounce rate could also indicate that nobody likes your website. Is it ugly? Offensive? Poorly constructed? Horribly written? A hideous website could be turning customers away. Ask a few trusted friends and colleagues for a brutally-honest critique of your website.
Dead-ends
Look at the most popular exit page. This is the page that your visitors look at before leaving your site. If the most popular exit page is a contact form, or the sales/enquiry page of your site, then people are doing what you want.
If you find that an unusual page is popping up as a frequent exit route, check the page for any suspicious activity. Is there something wrong with the page? Does the navigation work, and are visitors offered a next step on their journey?
Unusual Traffic Sources
The list of traffic sources can be revealing. Sometimes visitors come from unexpected places. And sometimes this can show a new way of finding people.
Unusual Keyword Choices
Scan the list of keywords that people have used to find your site. Any surprising choices? Keep your eyes peeled for anything that suggests people are searching for you with keywords that you hadn't considered. It may be worth integrating these keywords into your copy a little bit more.
The Complexities of Web Analytics
Web analytics is a large and complex field. Explore it as much as you feel is necessary. For many small organisations with a website to keep alive, a weekly perusal of the statistics will suffice.
Of course, don't just gormlessly look at a few numbers: think about what they imply. Draw meaning from the numbers. Consider what those numbers say about the people who visit your site. When looking at website analytics, you're looking for insight into the minds and behaviours of your potential customers.
Gathering Web Analytics – Use Google
Google Analytics is a free program that provides fantastic traffic stats. If you don't have it, or something similar, ask a friendly web developer to install it for you. If you don't know a friendly web developer, ask me – I know several very charming geeks.
Getting People to Come to You
The biggest problem that any website faces is invisibility. The web is stuffed with great websites, and if you want any chance of being seen, you'll have to fight for people's attention.
Websites do not automatically generate traffic. Without a good reason to visit your site, nobody will visit your site.
If you want a healthy flow of human traffic to your website, you'll need to purposefully cultivate that traffic.
In Part 4, we look at Search Engine Optimisation (SEO)
See also:
Part 1: A Thoughtful Approach to Crafting Web Success